Services
With our brand PEINER we are the world market leading grab manufacturer. Such grabs are capable of handling any type of bulk good such as sand, gravel or coal and also refuse, scrap, and agricultural commodities.
PEINER's many years of experience in tried and trusted development and manufacturing know-how give PEINER equipment users top quality together with sophisticated technology.
PEINER does not only stand for quality levels that have made PEINER the first choice in grabs, but also gives you the advantage of a worldwide service and sales network: grabs are not only available at any place across the globe, but can also be repaired rapidly and without long, expensive downtimes since experts and spare parts are always available nearby.
Our grabs are supplied with bi-directional motors, pumps and hydraulic fluid. All operating functions are done on board the grab itself. Grab functions are simple because the grabs bi-directional motor eliminates all solenoids or directional type control valves. We feel these are necessary, but they are not used by our competitors.
Grabs are also supplied with both male and female receptacles for the electrical connections. A 4-conductor cable only is required from the customers crane to supply the necessary electrical power for grab operations.
Lower overall grab weight provides a better centre of gravity and helps prevent the grab from rolling when working on a pile. Lower horsepower motors with matched pump and control valve offer high operating pressures to assure sufficient closing forces. Shorter closing and opening times result in more cycles per hour with greater quantities of material being handled.
PSLT provides
Designs to customer specification, including volume and deadweight
Particularly eco-friendly components such as dust guards, special grab lips, bio-oil
Maintenance-free grab design
Fast spare-parts delivery around the world
Service and consultation around the clock, ensured by worldwide service agencies
Assembly and commissioning by SMAG's specialist fitter
Operator training
Acceptance testing including certification by all major classification companies such as LR, GL, DNV, ABS, NKK, BV, CCS and others
PEINER Motor Dual Scoop Grab | MZG/MZGL
The motor dual scoop grabs are used with single-rope cranes and require a power supply from the crane.
Output-controlled hydraulic pumps ensure efficient conversion of the supplied electric power into handling performance.
Having high closing forces, MZG and MZGL grab types reach an optimum filling degree.
Integrated in the crane control system, the grab control system can be operated from the crane operator cabin.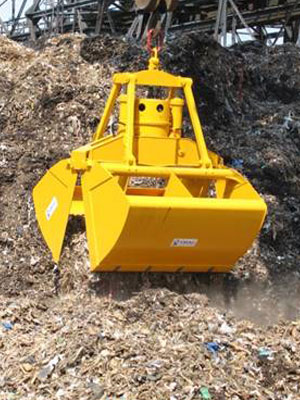 PEINER Motor Orange Peel Grab | MMG/MMGL
Proven grab design for economic scrap handling.
First choice for use in incinerator plants.
Equipped with individually driven jaws, motor orange-peel grabs adapt themselves individually to the handled material. Their optimum working height, low center of gravity and robust design make MMG/MMGL grabs versatile, all-purpose devices. Three product series cover the large variety of applications.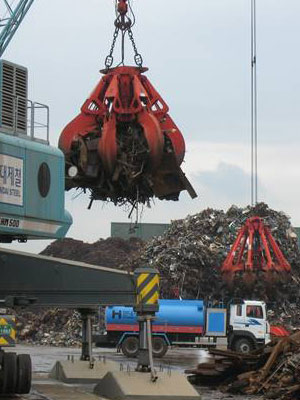 PEINER Motor Rectangular Grab | MMRG
This grab type, with a handling capacity 4 times higher than that of conventional orange-peel grabs, has been developed especially for unloading railway waggons and trucks. In addition to the individually driven jaws, the MMRG is equipped with two front-side hydraulic rams to optimize the filling performance and to reduce material loss due to trickling.
PEINER Motor Timber Grab | MHG/MBG/MBGS
Motor timber grabs are used to handle round timber, individual logs (including exotic timber) or bundles under different conditions. They are available with tong.
PEINER Four Rope Dual Scoop Grab | VSG
These grabs owe their name from the two holding and two closing ropes coming from the crane. An optimum balance between dead weight and crane capacity provides maximum efficiency with low maintenance effort.
Optional dust covers improve environmental protection when handling fine-grained bulk goods.
Various lip designs are available to match your goods.
PEINER Four Rope Orange Peel Grab | VMG
These grabs are robust and powerful, require very low maintenance and have an extremly long service life. The perfect deadweight/grab capacity ratio ensures the grab penetrates the the bulk material easily.
The VMG grab type is ideal for use in incinerator plants and for scrap handling
PEINER Scissor Grab | SCG
Based on the scissor principle and only double reeving of closing ropes, this grab is ideal for quick and efficient ship unloading.
A low center of gravity prevents the grab from overturning unintentionally.
PEINER Hydraulic Orange Peel Grab | HMG
The robust hydraulic orange-peel grabs are perfectly suited to handle scrap, waste, rocks or recycling material. The individually driven tines, that feature either an open, semi-open ore closed design, adapt perfectly to the material to be handled. The basic units are also available with different additional collision protection devices to withstand external impacts.
PEINER Hydraulic Dual Scoop Grab | HZG
The hydraulic dual-scoop grab suits any mobile excavator. Such grabs are available with one-piece traverse, with locking pin system or with flange-on system to ensure quick replacement of the shells. The robust large-volume bulk grabs, that are suitable for any type of handling appliance, are ideal attachments for a large variety of applications such as ship loading and unloading.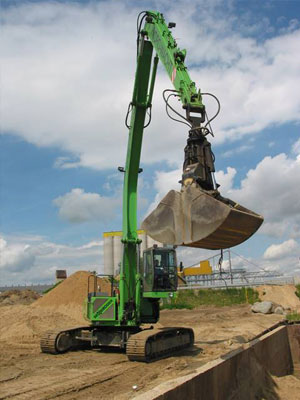 PEINER Hydraulic Timber Grab | HHG
The tightly clamping devices of this product series feature an increased slewing angle to enable one single grab to capture individual logs for example from corners of wagons as well as to hold to individual logs with small diameters securely.
Timber grabs with integrated leaf chain for bulk handling, e. g. in sawmills, complete the vast grab range.
PEINER Hydraulic Hook Traverse
For handling and positioning of timber packages
PEINER Slewing Units
Slewing units are used to rotate and position loads, such as containers, pallets, logs, packaged goods and, of course, grabs.
Nowadays, a PEINER slewing unit forms part of the basic equipment of almost every harbour mobile crane, but it is also used on stationary cargo cranes and deck cranes.
The original electro-mechanical units with lifting capacities of 5-32 tons are now being supplemented by electro-hydraulic units. Today, they feature lifting capacities of 200 tons and more.
PEINER Underwater Rope Grab | USG
Extraction of sand and gravel under water at dredging depths up to 150m for two- or four-rope dredgers used for river and sea dredging purposes.
The underwater rope grabs are designed to suit the ground conditions (weight, rope reeving, tooth tips).
Trimmer Grab
Dual-scoop motor grab or dual-scoop four-rope grab design available
High closing forces make them especially suitable for materials that are hard to capture
PEINER Radio Controlled Single Rope Grab | EGF
The perfect supplement to any general cargo crane
Whether actuated by remote control or pull cable, the opening process can be interrupted and continued several times in order to ensure bulk material is unloaded in a controlled manner and with reduced dust emission.
Easy handling without any special accessories
No additional staff is needed to open the grab by means of remote control. High-power rechargeable batteries with high charging capacity ensure dependable, constant use
Optional dust guard ensuring environmental protection when handling fine-grained bulk goods
Various lip designs available to match your goods to be handled